Leicester City Council reduces pothole pay outs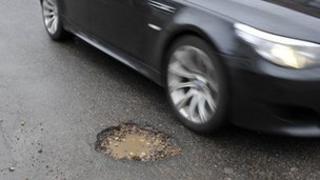 The amount of money paid out by Leicester City Council for injury and car damage claims has fallen by almost £476,000 over the last four years.
Officers said this was down to more money being spent on improving roads and footpaths and better inspections by insurance and highways teams.
But the council still receives between five to 10 claims a week, some of which are fraudulent.
The council said it dealt with about 1,400 claims a year
The most common type of claim involves people tripping over on carriageways or footpaths, with injuries ranging from a bruised knee or even death. On the roads it is potholes.
'Haemorrhaging money'
Figures show in 2009-2010 the council paid out around £516,719 for personal injury claims and £3,078 for vehicle damages.
From 2012 to date these figures had fallen significantly to £40,249 for personal injures and to £2,628 for vehicle damage.
Brian Brookes, insurance and claims manager at the Council said: "When we looked at this we saw a huge haemorrhaging of money out of the council."
He said they brought the claims department in house rather than outsourcing to a Swiss firm, saving a "six figure sum".
Potholes and cracks in surfaces are also repaired sooner, he added.
In the authority's 2012-13 budget it was announced an additional £1.1m would be invested in urgent highway repairs.