Moghul Durbar restaurant: Six men in court over attack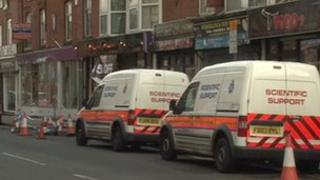 Six men have been remanded into custody following an attack on a restaurant.
Police said a large group smashed the windows of the Moghul Durbar restaurant in East Park Road, in Leicester on Monday night.
The men were remanded at Leicester Magistrates Court after they were charged with conspiracy to commit violent disorder.
They will appear at Leicester Crown Court on 1 February. A 26-year-old man remains in police custody.
A number of people were assaulted and others were injured, officers said.
A total of six people attended the Leicester Royal Infirmary for treatment to both minor and serious injuries.
The defendants are: Surjit Pandher, 28, Gurmukh Singh Cheema, 24, Ranjit Singh, 21, Sundeep Singh Sangha, 24, Rajveer Sangha, 23 and Ranvir Singh, 21.