Leicestershire Police force to fly rainbow flag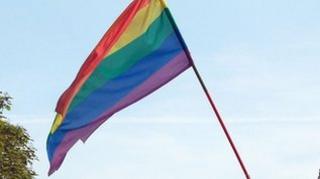 Leicestershire Police are due to fly rainbow flags to mark Lesbian Gay Bisexual Transgender (LGBT) History Month, for the first time.
Assistant Chief Constable Steph Morgan said it was a symbol of the force's commitment to the LGBT community and its work in creating a fair society.
The flag will be flown at the entrance to the force's headquarters at St Johns, Enderby, Leicestershire.
The county council and city council will fly the flags until 8 February.
Nick Rushton, leader of Leicestershire County Council, said: "It is about remembering the contribution of [LGBT] people and celebrating the diversity of our city and county."
The national event celebrates the lives and achievements of LGBT people.