Music from King Richard III's life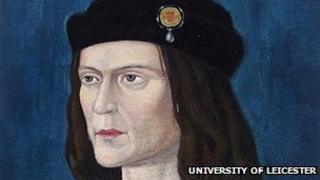 A recording of music from King Richard III's lifetime has been released - including a dance possibly played at a notorious Christmas party he hosted.
The University of Leicester held a concert by the specialist recorder trio TritonE.
It includes music he would have heard growing up in England and from a Christmas do which was so raucous it was written about at the time.
Archaeologists recently confirmed they found his body in a Leicester car park.
Complaining clergy
The concert featured music by John Dunstable, who was writing when the king was growing up, as well as pieces from Burgundy and the Hague, which he would have heard during his travels in Europe.
And it ends with a dance possibly played at a Christmas party the king held in 1484. The clergy complained about it.
Janet Forbes, from TritonE, which carries out much of its own research, said: "When I first heard about the discovery I was really excited.
"The music will provide an amazing context to the life of someone like Richard III.
"We chose music from places he visited, pieces which would have been familiar to him."