King Richard III: Roses laid at Bosworth Battlefield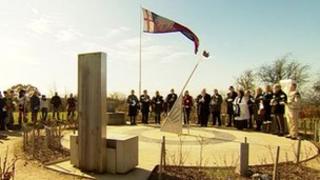 Roses have been laid at the battlefield where King Richard III and hundreds of troops lost their lives.
The ceremony at Bosworth Battlefield in Leicestershire followed the discovery of the king's remains under a Leicester car park last year.
Members of the Richard III Society, which led the search for the king's remains, also attended.
The field was the site of the last significant battle of the Wars of the Roses, on 22 August 1485.
The 100 white roses were laid at a sundial by invited guests.