Army bases get £180m investment in Rutland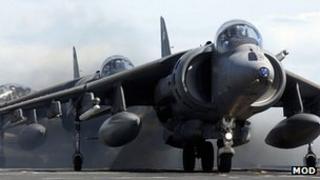 Millions of pounds will be invested in army bases in the East Midlands as troops are welcomed back to the UK as part of defence reforms.
The Ministry of Defence (MoD) will invest £180m at Kendrew Barracks, formerly RAF Cottesmore, and North Luffenham, both in Rutland.
The news was welcomed in the county, which said it would be a much needed boost to the economy.
And forces personnel said they were looking forward to getting back home.
The Royal Air Force moved out of RAF Cottesmore last year following the government's shake-up of defence spending and the 2nd Battalion Royal Anglian Regiment took over.
They will be joined by two more units, with another two going to nearby North Luffenham, to become one of seven regional centres, the MoD announced.
It will be one of seven regional centres with a total of 5,800 personnel in the county.
'Close to family'
The units moving to the county will be:
7 Regiment Royal Logistic Corps (RLC), moving from Germany to Kendrew Barracks this year
5 Force Support Battalion Royal Electrical and Mechanical Engineers (REME), moving from Devizes to Cottesmore after 2015
2 Medical Regiment, moving from Germany to North Luffenham in 2015
1 Military Working Dogs Regiment, moving from Germany to North Luffenham in 2015
The 16th Regiment Royal Artillery is leaving North Luffenham to move to Chichester.
Rebecca and Stefan Cross have been living in Germany for the last year-and-a-half and are looking forward to moving to Rutland.
L/Cpl Cross, of the Royal Logistics Corp, said: "I'm very much looking forward to going back now, and I'll be quite close to my family, so it's a bonus. Especially my mum, she can't wait for me to go back."
The news was welcomed by local businesses in the area, which suffered a blow when the 2,000-strong RAF Cottesmore was shut.
Caroline Hodges, chairman of Oakham Chamber of Trade, said: "We worried when the RAF moved out but the Army moved in pretty quickly.
"We do suffer from unemployment for young people, if the bases are being invested in, hopefully it will create jobs."
Alan Duncan, the Conservative MP for Rutland and Melton, said: "We have been working for several years now to turn the negative of losing the RAF into a positive, and this is another step in the right direction."