Sports stars back trust for Joe Humphries who died while jogging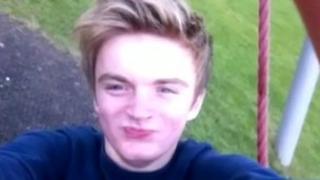 Sports stars are backing a trust set up by a former Leicester City goalkeeper after his son died while out jogging.
Joe Humphries, 14, died in October 2012 from a condition known as sudden adult death syndrome, just yards away from his home in Rothley.
His inquest found Joe had an undiagnosed heart condition.
Joe's father Steve has set up the Joe Humphries Memorial Trust to raise awareness and support other children with the condition.
Mr Humphries, who was at the club in the late 70s and early 80s, said: "The sudden, unexpected death of Joe really left us in the darkest of holes.
"I wasn't aware things like this can happen. We can't see this happen to any other young man in Leicester and Leicestershire."
He said: "Sport is good for you. But sport can exacerbate any underlying cardiac issues. You're not given any warning.
"We've had a look at how that needs to be addressed to reduce the likelihood of it happening to others."
Family friend and former England captain and Leicester Tigers rugby legend Martin Johnson is patron of the trust.
He said: "I've known Steve for 20 years, so when we heard the news it was tragic.
"The first thing I wanted to do was get my kids tested - because you hear about it and you think it's rare, but 12 every week is too many."
"So, it's something we all need to know about."
As well as raising funds to support research into the condition, the trust will work with the East Midlands Ambulance Service to promote life-saving courses in schools, sports and community groups.