Legionnaires' tests carried out at a Leicester college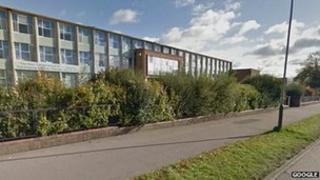 Tests for Legionnaires' disease are being carried out on a college's water system after a workman contracted the potentially fatal bug.
The man is recovering in hospital after working on a disused building at New College, in New Parks Leicester.
A second workman is being tested for the disease.
Leicester City Council said it was confident there was no risk to staff or students, who do not have access to the building, and has kept the school open.
The city council said it believed the source of the Legionnaires' was confined to an unconnected heating system in the empty building on the campus.
Staff and the 800 students do not have access to the building, a spokesman for the council said.
Deb Watson, director of public health, said in a statement: "The building, which is being decommissioned, is not accessed by staff or students and the water source thought to be affected was contained in a disconnected heating system.
"We are confident that the Legionella is isolated to the disused building and there is no risk to staff or pupils, but as a precautionary measure water samples have been taken across the college site."
The school, which has children from Year 7 to Sixth Form, has remained opened.