Richard III effect sees Leicester Cathedral visitor numbers soar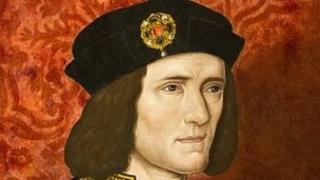 Leicester Cathedral has seen a 20-fold increase in visitors since the remains of Richard III were found nearby.
The skeleton was uncovered during an excavation in September and a cathedral spokesman said staff were struggling to cope with the influx of tourists.
The building usually gets between 40 and 50 visitors a day but that has increased to between 500 and 1,000.
The remains are due to be reinterred in the cathedral in May 2014 under a specially designed memorial.
Cathedral spokesman Liz Hudson said: "They go to see the Richard III exhibition... it is very exciting and now we need more volunteers as we haven't got enough."
Rival claim
Richard III died in 1485, aged 32, at the hands of forces of Henry Tudor near Market Bosworth, Leicestershire.
His grave, in the church of Greyfriars in Leicester, was lost during centuries of redevelopment.
His nephews Edward V and Richard of York, the "princes in the tower", disappeared in 1483 and are said by many historians to have been murdered on Richard III's orders.
York Outer MP Julian Sturdy has argued the king's remains should be buried in York.
"The call is strong from the great county of Yorkshire that Richard III did want to be buried where he was loved. That was the key thing," he said.
But the exhumation licence granted at the start of the University of Leicester's excavation stated that, depending on the identity of any remains found, they should be reinterred either in the nearest consecrated ground or at a suitable site of the university's choice.
A temporary exhibition about the project at Leicester's Guildhall will be replaced by a permanent display in old school buildings next to the car park where the grave was found.