Leicester's Jubilee Square plan approved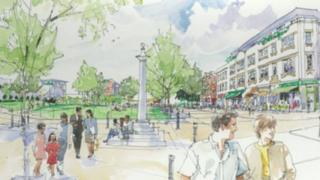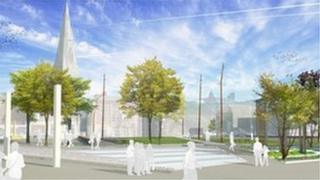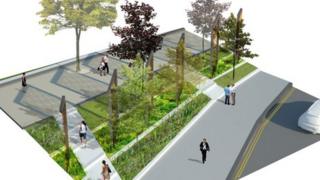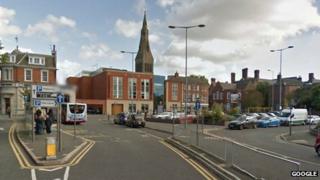 Controversial plans to replace a car park with a £4m public square in Leicester have been approved.
The Jubilee Square will see parking spaces in St Nicholas Place being replaced with a pedestrian area, gardens and the High Cross statue.
It faced objections from businesses who said a loss of parking space would affect traffic and trade.
However, Leicester City Council said the space, which will be used for events, could help boost tourism.
The square forms part of the mayor's Connecting Leicester plans to improve the city centre.
Sir Peter Soulsby previously said there was a "dominance of roads" in the city and the space would allow "pedestrians to move freely from place to place."
The report, approved by Leicester City Council's planning committee on Wednesday, said: "It is welcome for the improvements it would bring to the area and the city centre as a whole.
"Concerns, particularly about the loss of car parking are understandable, however, this is outweighed by these benefits and as there is existing alternative provision nearby."
Pam Koonner, who runs a restaurant in Highcross Street, fears the impact of the square on her business.
She said: "Our customers won't be able to park outside, we can't get deliveries during the day and it is going to cause a lot of problems."
Business owner Steve Cooper said Sir Peter had not kept his promises about offering alternatives.
He added: "The businesses have never been fully opposed to the square, we think it is a great idea. However, we believe we could have retained some of the parking and road layout which is the biggest part of the impact."
The news follows an announcement on Tuesday the city had been successful in winning £1.1m from the Heritage Lottery Fund (HLF) to spruce up the Old Town area.
It will include the stretch of the city from Millstone Lane to Peacock Lane and Greyfriars/Berridge Street to the former Southgates bus station site.
Sir Peter added: "The Old Town contains Leicester's finest collection of Georgian and early Victorian buildings, within streets dating back over 300 years.
"I want more people to see these impressive buildings by opening up the Old Town area and helping it to flourish once again."
Meanwhile, Oakham, in Rutland, is also likely to get a grant from the HLF to help towards refurbishment of the town's castle.