Gartree Prison still needs improvements, say inspectors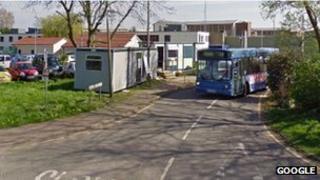 A high-security prison housing inmates serving life sentences is still in need of improvement, inspectors say.
Leicestershire's HMP Gartree, near Market Harborough, was inspected by the Independent Monitoring Board (IMB) which highlighted a number of concerns.
It said changes following the appointment of a new governor had taken its toll on staff and morale and was having an impact on prisoners.
The Ministry of Justice (MoJ) said the report will be "fully considered".
'Run very effectively'
The annual report said changes in management combined with budget-saving measures affected morale in the jail, which houses about 700 inmates.
Howard Whitham, chairman of the board at the Category B prison, said: "The prison on the whole is run very effectively.
"The whole thing, we felt, was almost like a perfect storm with different parts coming together to cause a challenge to the management and to the staff in the prison."
The report highlighted issues, including poor staff attendance and reporting at sentences, decline in pastoral care and delays and confusion over prison transfers, as potentially being caused by the changes.
Concerns were also raised over providing meaningful work for prisoners during the week, describing it as one of the centre's toughest challenges.
'Challenging jobs'
The number of mobile phones and the amount of drugs entering the jail also remained a problem.
The report said the prison had suffered through the appointment of four different governors in six years, all with their own styles and management issues to deal with.
In a statement, a spokesman for the MoJ said: "HMP Gartree is looking to ensure as many prisoners as possible are working regular hours doing challenging jobs.
"The report by the Independent Monitoring Board at HMP Gartree will be fully considered by ministers. They will respond in due course."