Isle of Wight postcard arrives at Leicestershire home 45 years late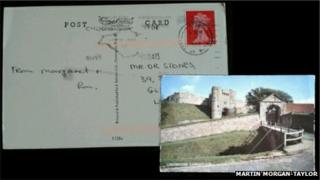 A holiday greeting from the past landed on the doormat of a Leicestershire home when a postcard arrived - 45 years late.
Martin Morgan-Taylor made the unexpected discovery, which has two postmarks, one in the Isle of Wight on 31 July 1968 and a second from Peterborough on 8 April 2013.
The picture is of Carisbrooke Castle, on the island, and the stamp cost 8d.
Mr Morgan-Taylor would now like to trace the sender.
"This postcard arrived today after 45 years. I thought that's absolutely incredible. You hear about these things in the media, well I'm hoping everybody else might be interested," Mr Morgan-Taylor said.
'Not Margaret Thatcher'
The holiday greeting was sent to the the Stones family who are thought to have moved out of the Leicester house in the mid 1990s.
But clues to who sent it or what they did on their trip are sparse.
Mr Morgan-Taylor said: "It would have been nice if it could have [said] something really historic like 'Just had a look at one of those new colour TV screens'. All we have is 'From Margaret and Ron'."
He said he assumed it had become lost at a sorting office in Peterborough and had recently been discovered down the back of a piece of equipment.
He is now hoping to trace the enigmatic couple but is not holding out much hope.
"I think we can assume it's not Margaret Thatcher but other than that, we can't really say very much," he said.
Valerie Antoine, Royal Mail spokeswoman, said: "It is extremely unlikely that this item of mail was in our system all this time.
"It is difficult to speculate what may have happened, but almost certainly it was put back in a postbox very recently, as we regularly check all our sorting offices and machines are cleared."