London Marathon: Friends run for Claire Squires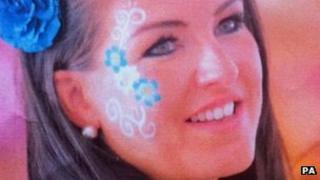 A group of 15 people has taken part in the London Marathon in memory of a Leicestershire runner who died near the end of the course last year.
Claire Squires, 30, of North Kilworth, collapsed and died on the final stretch of the 26.2-mile course last April.
Susie Munton said: "We decided to pull together, raise more money, save more lives, just like Claire did."
Miss Squires aimed to raise £500 for the Samaritans, but her death led to donations totalling more than £1m.
'Absolutely mad'
Ms Munton said Maxine Holmes, Claire's sister, had helped her train for the London Marathon.
The hairdresser, who is also from North Kilworth, said before the marathon: "I'd never run a mile before six months ago.
"We've got to dig deep do the marathon and make Claire proud of us."
The runner, who died of cardiac failure caused by extreme exertion, would call Ms Munton on long training stints.
She said: "I used to say: 'You're mad, absolutely mad. But here we are."
'Very poignant'
Rachael Kirby-Ryder, from the Samaritans, said during Sunday's marathon: "We've noticed quite a bit of money coming over the last week with the anniversary of [Claire's] death.
"People have thought it's a very poignant time to donate."
Miss Squires' death was also complicated by the drug DMAA (1,3-dimethylamylamine), which increases the heart rate.
Now banned, it was sold in the UK at the time in some sports nutrition supplements.
It was revealed during Miss Squires' inquest that a scoop of a product containing DMAA was in her water bottle.
The 15 runners are raising money for the Squires Effect, a charity set up in honour of Miss Squires.