Watermead County Park mice to live in tennis balls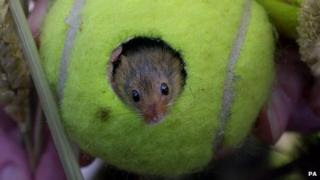 Harvest mice whose habitats were damaged by floods will soon be setting up home in tennis balls.
Many mice died when seven major floods in six months flattened the reed beds they lived in at a country park in Leicestershire.
About 200 tennis balls raised on sticks will be put at Watermead Country Park North for the mice to raise their babies in.
They were donated by the public and Leicester Lawn Tennis Club.
Dale Osborne, senior ranger at the country park, said: "They will lay their young in there and and they are so small you could probably get 10 in a tennis ball."
He said flooding of the country park had become more frequent.
Mice 'washed out'
"A lot of it is because they are building on or above the floodplains and the water is not draining away into the ground," he said.
"I was picking mice up swimming around in the water and putting them on dry land because some had been washed out of their homes."
Harvest mice nest from May to October and Mr Osborne hopes to get their new homes in place over the next two or three weeks.
Leicestershire County Council received about 550 tennis balls after asking for donations, and the surplus balls will be saved for future use.