Man 'killed and dismembered ex-boxer Shaun Cummins'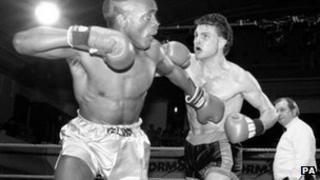 A man murdered a former champion boxer and dismembered his body before using his credit cards to go on a shopping spree, a court has heard.
The remains of Shaun Cummins were discovered by police called to his Leicester home by community nurses who had been caring for the 45-year-old.
At Leicester Crown Court, Thomas Dunkley, 29, denied murder but admitted preventing Mr Cummins being buried.
It is alleged Dunkley stole more than £25,000 from Mr Cummins.
Mr Cummins had retired from boxing in 1995 and was paralysed by a motorbike accident in 2004, which left him requiring home care.
Dunkley was described as Mr Cummins' "informal carer".
'Chopped him up'
Prosecutor William Harbage told the court: "There is an overwhelming inference from the evidence that the defendant murdered Shaun Cummins.
"His calculative and deceptive behaviour prevented the discovery of the body."
"Rather than call 999, or notify a doctor, he panicked and chopped him up with a chain saw. His actions were intended to mask the true cause of death.
"He knew the deceased had substantial funds still at his disposal, none of this money had yet come his way."
The court heard Dunkley used the former WBA light-middleweight champion's credit cards to buy a chainsaw, gloves, a mask, overalls and goggles, then "set about the grisly task of dismembering the body."
Dunkley then placed the parts in bin liners before sealing them with tape and putting them into the freezer, it is alleged.
When he ran out of space, Dunkley went to buy another freezer from Comet, the court was told.
Mr Harbage asked the jury: "Who does that?
"Who goes to those extremes, unless he's responsible for the killing."
Dunkley has admitted four charges of fraud relating to using Cummins' credit cards after his death, as well as cashing cheques from a trust fund.
The trial continues.