Shaun Cummins murder: Thomas Dunkley guilty of killing ex-boxer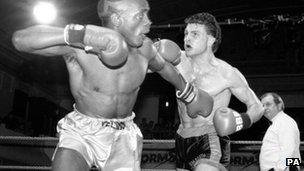 A 29-year-old man has been found guilty of murdering a former boxer and chopping up his body.
Thomas Dunkley, of no fixed abode, had denied killing Shaun Cummins but admitted preventing the burial of a body and four counts of fraud.
Mr Cummins' body was found in 10 pieces inside three freezers at his home in Marriott Road, Leicester in September.
Dunkley was sentenced to life in prison at Leicester Crown Court and ordered to serve a minimum term of 34 years.
The former WBA inter-continental light middleweight champion had retired from boxing in 1995.
In 2004 he was paralysed in a motorbike accident which left him requiring home care. Dunkley was described as Mr Cummins' "informal carer".
During the seven-day trial, he admitted cutting up the ex-boxer's body with a chainsaw and storing it in freezers at Cummins' bungalow.
Dunkley denied murder and claimed he had panicked after Cummins died of natural causes in his sleep.
Judge Mrs Justice Dobbs said of the dismemberment: "It was a grotesque act, violating Cummins' person and his dignity in death and the sensitivities of his family."
The trial heard Dunkley was bullied and assaulted by Cummins, but the judge said provocation had "not been an issue" in the case.
She said the subsequent use of his credit cards by Dunkley after his death was "despicable".
The court was told the 29-year-old used the credit cards to buy a chainsaw, gloves, a mask, overalls and goggles, and then "set about the grisly task of dismembering the body".
When he ran out of space, Dunkley went to buy another freezer using one of the credit cards.
Dunkley admitted four charges of fraud relating to using the former boxer's credit cards, as well as cashing cheques from a trust fund.
Supt Matt Hewson, of Leicestershire Police, said Dunkley had become frustrated as he did not appear to be compensated financially for helping Shaun and had increasing personal debt.
"He was not paid for his work and believed he would one day receive some payment or profit from a business venture with Shaun," said Supt Hewson.
Related Internet Links
The BBC is not responsible for the content of external sites.