Eliza DeLite looks for break at Burlesque Hall of Fame event in Las Vegas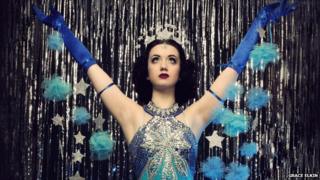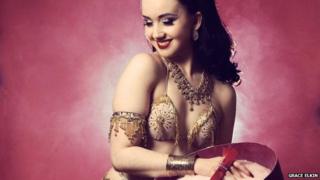 If you thought the glamour and allure of the great days of Hollywood were over, think again.
In small night clubs across the East Midlands, the sparkle and fun of those over-the-top Busby Berkeley musicals are being revived.
It comes through the creative costumes, the stunning head gear and performances of a new generation of female performers who are reinventing the art of burlesque.
There is nothing seedy about this 21st Century approach to the art of removing layers of clothing. Their audiences too are predominately female.
Eliza DeLite, from Leicester, has embraced the British New Burlesque approach. Now the 25-year-old performer is to take her style to the home of US burlesque in Las Vegas.
'Big stars'
With an act inspired from the Hollywood era, the former De Montfort University film production student is to challenge the Americans at their own game.
"My style is the older Hollywood," she says.
"I really love the chorus girl costumes from the 1930s movies, such as the Ziegfeld Follies, and my inspiration comes from wonderful big stars like Hedy Lemarr."
Ms Delite will be representing the UK in the Burlesque Hall of Fame's 23rd championships, which according to organisers, is the world's biggest burlesque event.
The event runs from Thursday 30 May until Sunday 2 June.
She's only one of three dancers from Europe invited to compete in Las Vegas and will be up against some of the best burlesque performers in the USA.
"I'm not pinning my hopes too high, but I'm not giving up either," she added.
"It's a wonderful opportunity for me and I'm sure I'll pick up lots of ideas. It's just going to be such a thrill."
Her "signature" act though is more High Church than Hollywood. It's a routine that secured her the best British female title in the World Burlesque Games in London last year.
'Sumptuous bits'
"That costume was inspired by kitsch and catholic iconography, and is all gold and very rich colours.
"I design the costumes myself but my dress making skills are rather limited. So if I need a new costume, I have a friend of mine who helps out.
"But I do the trimmings. The sparkly and sumptuous bits, I'll add myself," she said.
Eliza (real name Emma Knight) takes her stage name from Elizabeth, her real second name and the name of her great grandmother.
In fact, Momma Delite - her mother Eleanor- is going to Vegas with her.
So what can she expect from the US competition?
Nottingham-based performer Scarlett Daggers produces her own burlesque show at the city's Glee Club.
"The American style tends to be different and can really vary from city to city. So in New York, the performers do really crazy-off-the wall stuff," she said.
"In other US cities, the audiences want more classic burlesque acts in the 40s and 50s style.
"Over here, we add a clever satire spin and comedy to the performances."
For Eliza DeLite, Las Vegas could be her big break-through. At the moment, she works part-time in a hand-made cosmetics shop in Leicester city centre.
She was first attracted to this artistic form of strip-tease after an initial visit to her university's burlesque society.
"I've been doing burlesque for four and a half years but my goal is to go full-time," she said.
She now runs "Electro Tease", her own bi-monthly show at Leicester's Basement venue with her boyfriend Andrew, a university lecturer from Liverpool.
"Doing this and holding down a part-time job can be very stressful because there's so much preparation involved for the act. My weekend starts on a Thursday, just so I can sort out my hair.
"It's not an easy thing to get ready for my stage persona. If I didn't have straight hair - which I naturally do - it would make life so much easier."
Hollywood, Las Vegas, Leicester...it's quite a journey for Eliza, the UK's glamorous ambassador for Britain's New Burlesque.