Coalville filmmaker wins Cannes slot with orphanage life story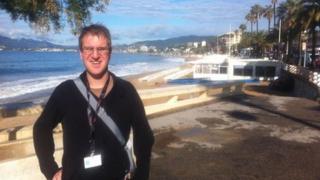 A "survivor" of a Romanian orphanage who was brought up in Leicestershire has won acclaim for an autobiographical film he showed at the Cannes Film Festival.
As a baby, Dumitru Langham, 24, was placed in an orphanage by his birth mother.
Ruth Langham, from Coalville, was a volunteer at the orphanage and brought him back to England and adopted him.
Mr Langham is now a film student at Brooksby Melton college.
'Saw Coen Brothers'
He entered his 10-minute film, entitled Wings of a Swan, in the short films category at the prestigious festival.
The film beat thousands of other entries from around the world to win a place in the short films corner, where it was shown on a loop in a digital media area throughout the festival.
It was one of the only documentaries in the category and Mr Langham is the first student from the college to have his work shown at Cannes.
He and course leader Jon Holmes, travelled to Cannes to see the showing of his film.
"We saw Justin Timberlake and the Coen brothers and got to walk on the famous red carpet," Mr Langham said.
He also received tips from directors from Los Angeles who saw his film.
"I'm one of the so-called survivors of the Romanian orphanages," he said. "It's the story of how my mum found me and my twin brother and my life from Romania to now."
'Scared, scared boy'
The film is a mixture of archive video footage from the orphanage and interviews with Ms Langham and her parents.
When Ms Langham found her adopted son, he was seriously ill and had a cleft palate.
In the film, she says: "It was heartbreaking when I first walked in. I went to pick him up and he was really frightened of me. He lay head-butting the cot.
"He was a really scared, scared boy. Every day I used to come in and sit on the floor and sing. And by day 12 he had put up his hands to be picked up."
She later adopted the two boys.
Mr Langham is currently working on a script for submission to the BBC while his film will be shown at several more European film festivals, including Stockholm.