Steam track could run for 18 miles from Nottinghamshire to Leicestershire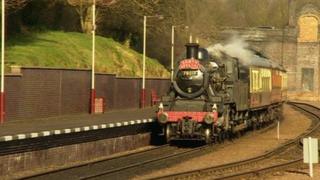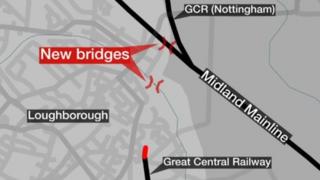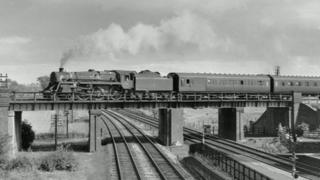 An East Midlands rail link between Nottinghamshire and Leicester could be revived, after Network Rail agreed to build a connecting bridge.
The bridge, which will run over the Midland Main Line at Loughborough, will be the first step towards reuniting two sections of the 18-mile (30km) route.
The line, which closed in 1966, was restored by two railway projects in Ruddington and Loughborough.
However the projects are separated by 500m of missing track.
The £8m reunification scheme aims to see this section rebuilt.
'Piece of railway heritage'
The initial phase will see a rail bridge built to carry steam trains over the four tracks of the Midland Main Line, which handles high-speed passenger services to London.
The bridge will be created by using two recovered rail bridges which will be placed "end to end".
Further work required to link the lines includes the building of a road bridge in Loughborough and replacing a former embankment.
The rail bridge is expected to be in place by 2015, with trains running the length of the track by 2018.
The line is part of what was formerly the Great Central Railway, which carried trains between Sheffield and London.
It is the UK's only double track, mainline heritage railway and is also used for commercial testing by Network Rail and train manufacturer Bombardier.
The north section runs for 10 miles (16km) between Ruddington, south of Nottingham, and Loughborough. Restoration work began in 1989 by the Great Central Railway Nottingham, a heritage group with about 600 members.
The south section runs between Loughborough and Leicester and is operated by a not-for-profit company known as Great Central Railway which has more than 100 volunteers. It began preserving the rail link during the 1970s.
"There is huge interest and excitement among railway enthusiasts and the general public in seeing this project succeed," said Mark Fowler of Great Central Railway Nottingham.
Phil Verster, route managing director for Network Rail, said: "Our electrification teams are already making significant changes to the infrastructure in this area so it's the ideal opportunity to get the bridge in place, with minimal disruption and cost.
"Once the full scheme is complete it will bring significant economic benefits to the region as well as reinstating a piece of our railway heritage."