Lubbesthorpe new town bridge gets £5m funding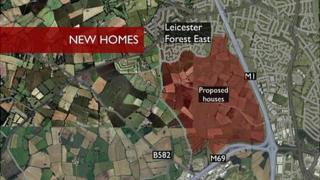 A £5m funding package for a new bridge over the M1 in Leicestershire has been confirmed by the government.
Costing a total of £8.7m, the bridge will provide access to the New Lubbesthorpe development of more than 4,200 homes.
The scheme is one of dozens of projects nationwide approved by the government under plans to ease congestion on key traffic "pinch points".
Work will start in February 2014 and is due to be completed in summer 2015.
Peter Osborne, Leicestershire County Council cabinet member for Highways and Transport, said: "The funding will allow the early delivery of important links between the new housing, employment and other amenities."
The aim was to ensure the "development to the west of Leicester can be delivered in the most effective way for the benefit of local businesses and residents".
The 973-acre housing development has faced fierce opposition from some nearby residents since it was suggested in early 2011.
They raised fears it would overwhelm local services and destroy farmland but supporters said it would boost the economy and provide much needed housing.