Queniborough leak: Clean up after water mains bursts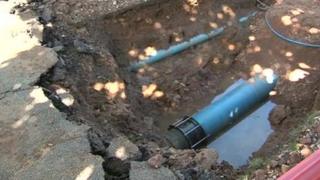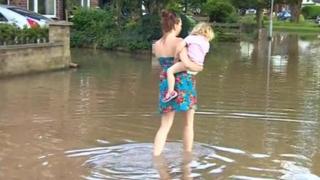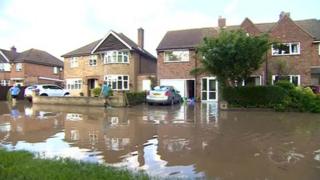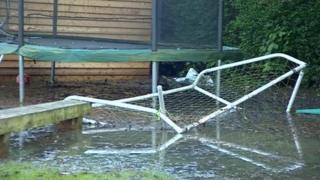 A massive clean up operation has begun after a burst water main flooded 50 homes in a Leicestershire village.
The 15in (38cm) pipe burst at about 16:00 BST in Queniborough on Monday.
Severn Trent apologised to residents in affected streets and offered to pay any insurance excess.
The mains pipe, which was about 80 years old, has been repaired but the road remains closed because of damage. Experts believe the pipe burst because of changes in the weather.
'Gushing out'
The resultant explosion created a huge hole in Main Street.
Paul Wallis, from Severn Trent, said: "The initial escape of water would have been about the volume of a swimming pool."
The firm's loss adjusters are now talking to residents from all 50 homes that were damaged by the flood but have not estimated a total cost of the damage.
Butcher Ian Clarke said he panicked when he saw how much water there was.
"I looked out the front of the shop and saw the water main had completely burst, it was spurting out. It was massive, it was gushing out," he said.
Severn Trent said engineers worked through the night to repair the pipe and further work will be carried out on Main Street over the next few days.