Dylan Crean murder: Agencies criticised by report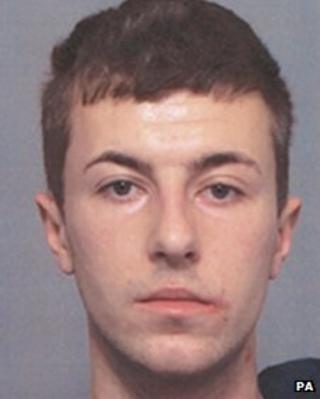 A serious case review into the death of a Derbyshire toddler has found agencies failed to alert each other about the risk posed by the boy's murderer.
Dylan Crean, aged three, suffered fatal injuries in August 2011 when attacked by his mother's partner, Peter Cawser.
The review found probation and mental health workers did not share information about 22-year-old Cawser.
He was taking medication for mental health problems and had previously attacked an ex-girlfriend.
Officials said staff had been given new training since the boy's death.
Dylan's mother, who came from Birmingham, moved to live with Cawser, 22, at a house in Edward Street, Albert Village, Derbyshire, just before the boy's death.
'Frequent moves'
The Safeguarding Children Board's review said probation, health and social services failed to warn each other about the dangers posed by him.
Cawser later admitted murder and was given a minimum term of 18 years in prison before being considered for parole.
The review, carried out by Birmingham Safeguarding Children Board, examined services delivered by agencies in Derbyshire, Leicestershire and Rutland, Birmingham and Nottingham.
It found the mother's frequent moves "resulted in a loss of contact with agencies, hindered effective inter-agency communication and lessened any focus on the child".
It added: "Derbyshire Probation Trust must ensure that where an adult poses a risk of serious harm to others within the same household, that they share this vital information with Children's Social Care to enable action to be taken to safeguard and protect children.
"Similarly Derbyshire Healthcare NHS Foundation Trust must communicate effectively with health visitors where a child under five years is known to be living with someone who has been referred for a mental health assessment."
Paul Lumsdon, of Derbyshire Healthcare NHS Foundation Trust, said: "(We are) making it now compulsory for all relevant staff and managers to receive a tailored programme of training aimed at improving ways of joint working with partner agencies, including information sharing.
"All the steps we have taken since this incident in 2011 are designed to support best practice in child protection to new heights."