Glenfield Hospital child heart surgery reprieve welcomed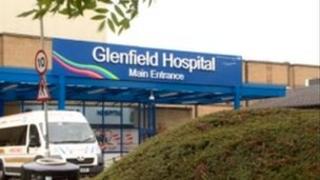 The decision to suspend a review of children's heart surgery has been welcomed in Leicester where the unit at Glenfield Hospital was threatened.
The NHS had proposed closing three centres to concentrate care in fewer hospitals.
Campaigners in Leicester said it was a "huge victory" and that they now had more confidence in the process.
Jeremy Hunt, Secretary of State for Health, said the decision was flawed and ordered an independent review.
Ten hospitals currently perform children's heart surgery but last year the safe and sustainable review performed by the Joint Committee of Primary Care Trusts concluded Glenfield Hospital, Leeds General Infirmary and Royal Brompton in London should stop doing so.
'Huge victory'
Campaigner Adam Tansey's son, Albert, aged three, had life-saving surgery in Leicester.
"If we go back to last July, we were told they were going to be padlocking the doors to the theatres for the children at Glenfield," he said.
"So today we've got a huge victory because that isn't going to happen."
He said the unit was not only important to the city but also served a large area from Northampton and Kettering to Lincolnshire and further north.
And he added that if the unit closed it could affect the children's intensive care unit and even adult heart surgery because many of the surgeons work in both areas.
'Strong evidence'
The MP for Leicester West and shadow minister for care, Liz Kendall, said: "I warmly welcome today's announcement.
"I know for many patients and staff at Glenfield this further uncertainty and delay is going to be a worry.
"But I think it is vindication of the argument right from the start that you have got to base these decisions on what's the best quality care for patients.
"Glenfield has very strong evidence and data with that."
Dr Adrian Bolger, lead cardiologist at Glenfield, said: "The review was supposed to create a national network of surgical centres which were safe and sustainable.
"Now we, along with our colleagues in the other trusts and NHS England, will work together to make that a reality using the right evidence, common sense and always with what's best for patients at the forefront of our minds."
Professor Sir Bruce Keogh, medical director for NHS England, said: "We welcome the review and NHS England will now study its recommendations in full to learn from them."