Keith Matthews: Conman caught by Rogue Traders is on the run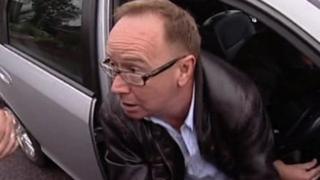 A conman caught defrauding customers, many of whom were elderly, by the BBC's Rogue Traders is on the run.
Keith Matthews was found guilty of 13 counts of fraud and fraudulent trading at Leicester Crown Court on Tuesday.
The 58-year-old, who duped people into paying for unnecessary aerial work, did not turn up to his trial but was convicted in his absence.
A warrant is out for Matthews' arrest and he is due to be sentenced with co-defendant Luke Busby, 26, next Friday.
Matthews, of Quorn in Leicestershire, ran a TV aerial repair business which featured on the BBC's Rogue Traders programme where he was caught faking unnecessary work - even pouring a drink over an aerial socket to claim there was a leaky roof.
After he featured on the show Leicestershire Trading Standards began an investigation and he was again caught on hidden cameras duping customers.
John Hallisey, prosecuting, said: "Keith Matthews is a dishonest and deceitful trader of the very worst sort. He is the sort of man who gives hard working businessmen a bad name.
"Keith Matthews preys on the vulnerable, targets the elderly, deceives people into thinking they need work done when they don't, does work that is not necessary. When it is, there is a shoddy job."
Co-defendant Busby, of Leicester Road, Countesthorpe, admitted the offences and will be sentenced next week.