Atos medical centre turn away wheelchair user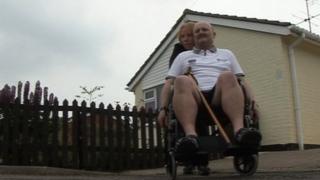 A disabled man was turned away from his incapacity medical assessment by Atos because his wheelchair was a health and safety risk, he said.
Charles Foreman, from Market Harborough, has a back complaint and had to visit the Atos Healthcare centre in Leicester, which is upstairs.
But he was turned away despite offering to walk. According to Mr Foreman, he was told his chair was a fire risk.
Atos said it warns people that the assessment centre is upstairs.
'Just refused'
The couple made their way to the centre, in Rutland Street, and took the lift upstairs but said they were told that because he had been seen in a wheelchair he could not have his assessment.
Mr Foreman said: "Because we went into the medical health centre in a wheelchair they wouldn't assess me.
"They said they wouldn't do it because I was in a wheelchair. Even though the wife said she would take the wheelchair out they still wouldn't let me go in, they just refused.
"They said health and safety, I just couldn't understand it at all."
Mr Foreman suffered a work related accident, leaving him in almost constant pain and in receipt of incapacity benefits.
He can walk short distances with the aid of a stick but on Tuesday, when he visited Atos for his assessment, he went in his wheelchair with his wife Karen.
"I was quite angry at the time because we had managed to get him there which is a struggle in the first place," she said.
"They wouldn't see him because he was a fire and health and safety risk."
In a statement Atos said letters warn people that if they would not be able to descend a flight of 30 stairs in an emergency then an alternative assessment should be arranged.
"We let people know about access prior to scheduling appointments to try to ensure no-one goes to a centre that is not appropriate for them," it added.
The Department of Work and Pensions, which owns the building, released a similar statement adding: "If people have mobility problems, which may make evacuation in the event of a fire difficult, a home visit or an appointment at an alternative assessment centre is arranged."