Banknote campaign 'could go to court' after raising £13,000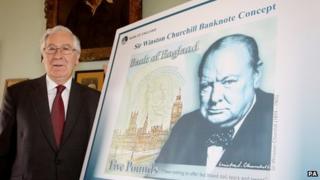 A campaign to get more famous women on British banknotes has received more than £13,000 in donations.
Caroline Criado-Perez from Rutland, Leicestershire, said she planned to use the money to take the Bank of England to court.
She set up the campaign after it was announced the current £5 note, featuring Elizabeth Fry, would be replaced by Sir Winston Churchill.
It means the Queen will be the only woman featuring on British banknotes.
Strong public feeling
Ms Criado-Perez, 29, has also collected more than 30,000 signatures on a petition and said she was still in discussions with the Bank of England before considering legal action.
"The amount of money donated just shows the strength of public feeling on the issue," she said.
"As I have said all along there is no problem with Churchill. The problem is having four male candidates on the banknotes which suggests women haven't done anything in our history.
"I would prefer not to go to court, but if I don't get a satisfactory answer from the Bank of England and no evidence of how they came to a decision on not putting a woman on the banknotes, then we are going to court."
Ms Criado-Perez said her preferred outcome would be to get Churchill on the £10 note, replacing Darwin, and keep Elizabeth Fry on the £5 note.
Her campaign has been backed by Leicester West MP Liz Kendall who is one of 46 female MPs and members of the House of Lords who have written to the Bank of England asking it to reconsider the decision.
In response, the Bank of England said: "The Bank did consider the representation of women when selecting the next figure to feature on a banknote.
"Four candidates, three men a woman, were considered when Sir Winston Churchill was chosen as the historical character to appear on the next new banknote, and the female candidate was chosen as the contingency candidate."