Man found victim 'stabbed in neck' on Oadby street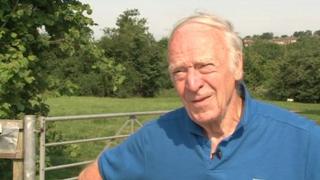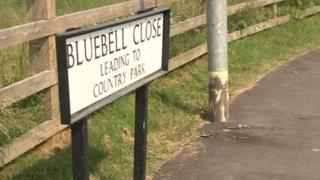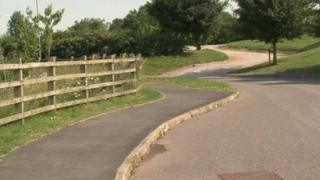 A man has told of the moment he discovered a 62-year-old stab victim in a Leicestershire town.
The attack happened at around 08:45BST on Saturday on Bluebell Close, Oadby.
The victim was found with a stab wound to his neck by Peter Greenfield, who was walking his dog.
Mr Greenfield ran to get help and the man was taken to hospital, before being discharged on Tuesday. A 30-year-old, arrested in connection with the incident, was released on police bail.
'Still talking'
Mr Greenfield said he had found the victim leaning against a car.
"He looked in a bad way. He was huddled over and, as I approached, I could see there was blood everywhere," he said.
"He was wearing green wellies but those had turned red. Most of the blood was on him. He seemed to be trying to stem the flow of blood with a cloth or something. But he was still talking.
"I walked towards him and he croaked, 'Have you got a phone?'
"I said 'What's happened to you?' He said: 'I've been stabbed in the neck'."
'Extremely rare'
Mr Greenfield drove to the nearest house to get help. A woman who said she was a nurse returned to the scene with him, while her husband called the emergency services.
"I didn't ask her name but she was splendid," added Mr Greenfield. He said the police and air ambulance arrived shortly afterwards.
Mr Greenfield said the area, a popular route with dog walkers, had been very quiet since the incident.
"It's strange. There are normally several people here at this time of day," he said. "But I'm sure it will recover."
Det Con Gary Dickinson, from Leicestershire Police, said: "We would still encourage anyone who can assist with our investigation and hasn't yet spoken to the police to come forward.
"Incidents of this nature are extremely rare and we would like to reassure the local community we still believe that this incident was isolated."