Loughborough pool reopens after major fire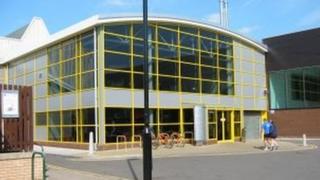 A Leicestershire leisure centre that was forced to close for six months after a major fire is reopening.
An extensive refurbishment took place at Loughborough Leisure Centre, which is on Browns Lane.
Charnwood Borough Council's head of leisure and culture Sylvia Wright said: "We have spent almost £1m to totally refurbish and clean and repaint the centre."
Swimming is free at the leisure centre's pool on Saturday and Sunday.
Metal lockers 'melted'
The pool was deep-cleaned, relined and repainted during the refurbishment work following the fire in December.
"The fire was so intense that the metal lockers in the changing rooms melted and some roof supports had to be replaced," Ms Wright said.
"The fire was totally devastating … and a big shock to the community."
Pool manager Darren Baker added: "It was quite shocking. The heat damage was immense and the smoke damage was terrible."
Work on the project started in March with some of the parts being delivered from Japan.