New Richard III painting revealed at Bosworth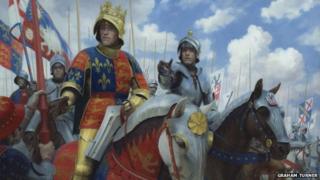 A new painting of Richard III has been unveiled at the Bosworth Battlefield Heritage Centre.
The picture, by Buckinghamshire artist and historian Graham Turner, depicts Richard at the battle.
Richard died at Bosworth in 1485 at the hands of forces fighting for Henry Tudor, the future Henry VII.
While the painting was started before the discovery of Richard's grave in a Leicester car park, Mr Turner said the discovery helped him to finish it.
'Shows him as he was'
He said: "Like quite a lot of other people in the world, I was on tenterhooks waiting for the news from the DNA tests.
"When they discovered the skeleton was Richard's and did the facial reconstruction, I was able to incorporate all that new information into the painting."
As a result, Mr Turner claimed the painting was one of the first "lifelike" depictions of the king.
The new work depicts Richard spotting Henry Tudor across the battlefield, which prompted him to lead the charge in which he was killed.
Mr Turner, who has been a historical artist for 30 years, said he had painted Richard III several times before.
However, his previous works were based on copies of portraits done during the king's lifetime.
"These copies are the only paintings of Richard believed to exist," he said. "The facial reconstruction is remarkably close to these portraits but there are still small differences.
"Hopefully my painting will be the first that shows him as he was."
After his death, Richard's body was put on display in Leicester. It was then hastily buried in a small grave within a city church.
The building was later demolished and the grave site lost.
A team from the University of Leicester found the skeleton in September 2012 and it was confirmed as Richard in February 2013, following extensive tests.
The new visitor centre next to the site of his grave is due to open in 2014 and it is hoped it will bring 100,000 people and £4.5m into Leicester in its first year.
A temporary exhibition at the nearby Guildhall has attracted almost 80,000 visitors since opening in February.
A replica of the king's head is currently on a nationwide tour but will become part of a permanent exhibition called Richard III: Dynasty, Death and Discovery at the proposed museum.