University of Leicester's Vaughan College move criticised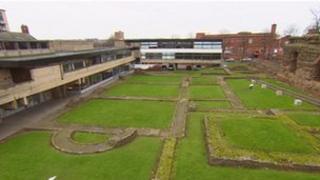 A decision to move University of Leicester's adult education college out of the city centre was done without proper consultation, some staff say.
Vaughan College, which is located on St Nicholas Circle, will move to the university's main campus in September.
The building will be sold but all courses will retained, a university spokesman said.
Lecturer Miriam Gill said there was "a lot of dismay and anger" about the decision to move the college.
'Fait accompli'
"The university has announced this as a fait accompli saying: 'We are going to shut the college and move the teaching'," Dr Gill said.
But university vice chancellor Sir Robert Burgess said the Vaughan College building was no longer fit for purpose.
"It needs work doing to it and its facilities bringing up to standard."
He said the move would also mean students would have access to the main university library, the students' union and modern catering facilities.
Dr Gill said: "I am worried that people from all over the world are going to come to Leicester and they are going to see a building with University of Leicester on it that is all boarded up.
"It is a rare example of a carefully designed building of the 1960s in Leicester - with a sensitive site including the archaeological remains and the Roman wall."
She also said the college's adult students would no longer have a dedicated centre for classes and the college would lose its identity.
The college was founded in 1863 as a working man's college and has been in several different locations over the years.
The building is also home to the city's Jewry Wall Museum.
Cynthia Brown, author of a book about the college, said: "It has been here for 150 years and a lot of people have had their lives changed by the college."
Sir Robert said the university remained "committed to adult education and lifelong learning".