Leicestershire festival vehicle fire death prompts arrests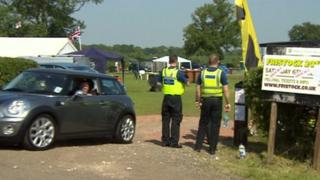 The death of a man discovered in a vehicle near a Leicestershire music festival is being treated as suspicious.
The fire service alerted the police after being called to a vehicle blaze on Water Lane, Frisby on the Wreake, in the early hours of the morning.
Two 18-year-old men and a 17-year old boy have been arrested in connection with the death.
Officers said people at the nearby Fristock Festival may be able to help.
Festival organiser Edward Hutchison said they had tried to tackle the flames.
"We went down with fire extinguishers but when the fire service arrived we were advised to stay back because of the risk of explosions.
"We are devastated this has happened and our feelings go out to any family involved.
"This is a family event and there is a real feeling of shock, especially among those who stayed overnight."