Mallory Park race track could close over noise threat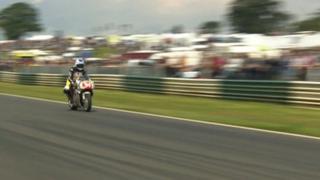 Owners of a Leicestershire motor racing track have said it could close if the council presses ahead with legal action.
Mallory Park, which has hosted racing legends such as John Surtees, Jack Brabham and Graham Hill, faces being taken to court by Hinckley and Bosworth Borough Council over noise pollution.
Some residents of nearby Kirkby Mallory said the noise was "intolerable".
But owner John Ward said the track was "quieter than it ever was".
Mr Ward said: "We obviously want to work with the residents as much as we can. We will do anything that's practically possible to reduce the problems they have.
"If the council did clamp down and take us to court, that would be a major problem."
'Unviable' track
Mr Ward said the dispute related to "old" regulations - a 1985 enforcement notice, under the 1974 Control of Pollution Act, which dictated how many days the track could be used a year and restricted noise levels.
"The business world is totally different. Trying to force us to go back and operate a company on those old regulations is a very difficult thing," he said.
"The council believe they can enforce these regulations after all these years. It would make the circuit unviable. We will close, without a doubt."
He added an economic impact survey had estimated the business was worth £10.5m a year to the region's economy.
Frank Barson, co-owner of nearby Kirkby House guesthouse said the loss of the track would mean the closure of his business.
But one Kirkby Mallory resident, who did not wish to be named, said: "Residents obviously accept and expect the track to be noisy. For many years that was Wednesday practice days and race days on Sundays and some Bank Holiday Mondays. While that was difficult to live with, people moved to the village knowing that was the case.
"But in recent years, the general consensus is the number of noisy days has increased to four, five or six days a week and that is becoming intolerable."
The council is being recommended to press ahead with court action against the circuit for five alleged breaches in August and September of the 1985 noise notice.
Chief executive Steven Atkinson the number of complaints about noise had risen from eight in 15 years to 153 in 2012.
"These steps have been taken because the information we have from residents of Kirkby Mallory village is they are very concerned about the increasing levels of noise and activity over the past five or six years," he said.
"We have a statutory responsibility as a council to make sure those levels of noise are controlled. We don't want Mallory Park to close. It is a national iconic venue. The door is not closed to further discussion."