Leicester Uplands School governors face axe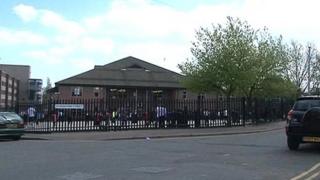 Governors at a strike-hit Leicester school are to be issued with a formal warning notice by the city council.
A long-running dispute between managers and unions over a restructure at Uplands Junior School has now seen moves to suspend four staff.
The city council said the warning notice gave governors 15 days before a request to remove them goes to the Department of Education.
The school governing body said they would "vigorously defend" its actions.
Independent investigation
More than a year ago restructuring was proposed which would have seen eight teaching assistant posts lost.
In March this prompted staff to back a vote of no confidence in head teacher Tim Luckcock and chairman of governors Abid Matak.
Three one day strikes have followed, and an independent investigation into the dispute has taken place.
But the resulting move by the governing body to suspend four staff - not including Mr Luckcock - has prompted the city council to claim the school was not sharing information.
'Legal right'
Vi Dempster, assistant mayor in charge of education, said: "This is a situation which cannot go on.
"We need to focus on the best interests of the children and ensuring that school standards continue to rise and at the end of the day all of this is taking away that focus.
"We have come to a point where enough is enough and we need to take further action."
The council said the final decision on the action was down to the Secretary of State for Education but admitted it had no confidence in the current governors.
Peter Flack, assistant secretary of the National Union of Teachers in Leicester, also believed the school had gone too far. He said: "It says to me that the extension of powers of governors through academies is a very risky process.
"Because what you are doing is giving to people who may have their own agenda completely, complete power over what happens.
"What we now have is a governing body at Uplands Junior School which has declared war on the teaching staff, which is madness."
In a statement the chair of the governing body, Abid Matak, said: "The governing body are unsure as to why the neutral act of suspension following a recommendation, can be grounds for a warning notice to be issued.
"The local authority agree that the governing body have the legal right to take such action, therefore referring to evidence "not shared" is misleading as it suggests the GB [governing body] is acting outside of its remit."