Susan Taylor English Channel swim death: Funds soar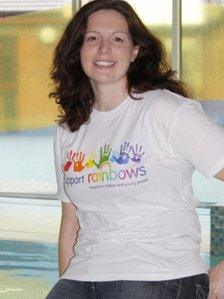 More than £60,000 has been raised on behalf of a swimmer who died trying to swim the English Channel.
Susan Taylor, 34, from Barwell, Leicestershire, died in hospital in Boulogne in France on Sunday after she collapsed in the water during the final part of the challenge.
She was raising money for Diabetes UK and Rainbows Hospice in Loughborough.
About £3,000 had been raised by Monday morning but donations have shot up since the news of Ms Taylor's death.
On Tuesday evening the total stood at £64,745.30
The comedian and Britain's Got Talent judge David Walliams is believed to have donated £1,000 to Ms Taylor's fundraising appeal.
A donation of that amount was made under the name of the Little Britain star, who swam the Channel in 2006, with the message "Sending all my love to Susan's family and friends".
He also tweeted a link to the webpage, writing: "Susan Taylor's Channel swim attempt very sadly ended in tragedy. This is her charity page if you want to donate."
Katie Baxter from Rainbows Hospice said she thought Susan would be "absolutely thrilled" with the donations.
"She worked so hard over the last year doing so much training, she was looking at her diet and fundraising on top of that as well," she said.
"We never imagined that this sort of money would come in. We're grateful for that and all the messages we've received because she was so loved and thought of within the community."
Ms Baxter said people at the hospice were "shocked and devastated" at the news of her death and talks would now take place about a possible memorial for the swimmer there.
On Monday, Ms Taylor's father Arthur Wright said he had lost "the best person in the whole world".
He said his paramedic son David, Ms Taylor's brother, was on the boat at the time of the swim and battled to save her life.
In a statement, the family said Susan was an "experienced long-distance swimmer and had prepared tirelessly" for the 21-mile endurance test.
They said they were "grateful for all the messages of support they have received" but asked for privacy to allow them to come to terms with this "tragic event".
Swimming coach Paul Ferrier, who Susan had known since a child and had helped her train for two years said she had been in "good spirits" during the swim and believes she collapsed from "total fatigue".
He said: "Her fitness and condition was fantastic. She had done an incredible amount of training in open water and lots of competition work in the Lakes.
"We think she did vomit which was a reaction to an intake of salt water, but she became a little distressed as you can imagine after 30 miles and I believe she just collapsed."
In April 2012, Claire Squires, 30, from North Kilworth, Leicestershire, died while competing in the London Marathon.
Donations to Ms Squires' JustGiving webpage in aid of the Samaritans jumped from £500 to more than £900,000 following her death.
Her friends and family have also set up the Squires Effect charity, which raises money for several causes including Rainbows Hospice.
Related Internet Links
The BBC is not responsible for the content of external sites.