Jonathan Bowes cut off ducks' wings with old scissors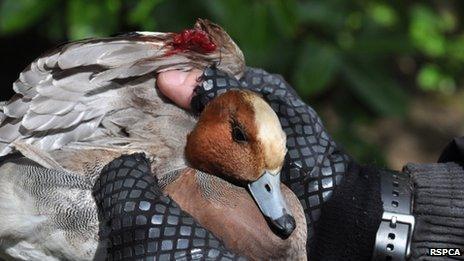 A man who admitted using old scissors to cut ducks' wings has been banned from keeping birds for five years.
Jonathan Bowes allowed men to shoot at pinioned ducks and used illegal traps to try and catch jackdaws.
He was caught after selling injured birds on Melton Mowbray market.
The 41-year-old, of Main Street, Knipton, pleaded guilty to pinioning adult ducks without anaesthetic, offering wild birds for sale and causing unnecessary suffering.
In addition to the ban, he was also fined £1,500 at Loughborough Magistrates' Court, on Monday.
Bowes admitted that he pinioned some birds using "any old pair of scissors".
Pinioning is a method of cutting part of a bird's wing to permanently prevent it from flying.
He also pleaded guilty to using traps - known as "break-back traps"- which are designed to kill rabbits humanely, but are illegal to use to kill birds.
Insp Cliff Harrison, from the RSPCA's special operations unit, said: "This is a particularly disturbing case.
"To cut through the flesh and bone of adult ducks wings with blunt scissors is calculated and cruel."
The RSPCA said Bowes claimed he had to "repinion" some adult birds which had not been pinioned correctly as ducklings.
He also claimed he did not realise he was breaking the law and that he believed he was doing things correctly.
However, the RSPCA said Bowes was not a veterinary surgeon and had failed to anaesthetise any of the birds he pinioned.
The RSPCA, Leicestershire Police and the RSPB began a joint investigation after Bowes was caught selling injured birds at the market, in April last year.
An inspection by a vet showed the birds had been freshly pinioned and displayed fresh, open wounds.
On the day of the sale, Bowes had eight wigeon and four tufted ducks available to buy.
None were provided with the required paperwork to prove they had been bred in captivity.
Following a later search at Bowes' business premises, on Landyke Lane, Holywell, investigators found a number of birds with bleeding and injured wings.
Bowes' ban on keeping birds has been suspended for 28 days while he makes alternative arrangements for the birds still currently in his care.
Related Internet Links
The BBC is not responsible for the content of external sites.