Leicester shisha cafe fire: Imtiyaz Patel found guilty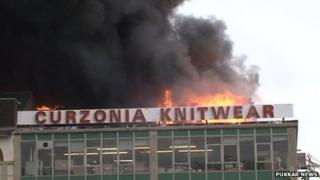 A shisha cafe owner who set fire to a rival establishment has been found guilty of arson being reckless over endangering life.
Imtiyaz Patel, 28, torched the rooftop Cloud 9 cafe on Curzon Street, Leicester, causing £100,000 of damage.
Staff from the Curzonia Knitwear factory below had to be evacuated from the building in October last year.
Patel, of Herschell Street, was found guilty on Wednesday and remanded in custody to be sentenced in September.
During the trial, Leicester Crown Court was told Patel had got into financial difficulties and set fire to the rival business out of spite.
It took more than 60 firefighters several hours to bring the fire under control and the smoke could be seen up to 10 miles away.
Afsha Sheikh was about to marry the owner of the cafe when the blaze gutted their business.
Speaking outside court she said: "It is kind of a bitter sweet moment because obviously what we've lost we can't get back at the moment.
"But just that fact that we have got justice for our family is a big relief."
Sue Jackson was working in the factory below the cafe when the blaze took hold.
'Reckless and selfish actions'
"We were so close to it and it was just so awful. The fire was raging and we were like 'oh my god' if we hadn't got out what could have happened. It was so frightening," she said.
After the verdict, Steve Chappell, chief prosecutor at the Crown Prosecution Service East Midlands, said Patel used petrol to start the fire.
"Patel's actions have destroyed a business that had taken months to build up and left the owner without a livelihood," he added.
"The fire took hold in the middle of the morning in an occupied building. If is fortunate that nobody was seriously hurt as a result of his reckless and selfish actions."
The jury had been show CCTV footage of Patel forcing his way into the building on the morning of the fire and disabling cameras.
He admitted sabotaging the equipment but said he had been forced to do so by two strangers who threatened him with a knife.