Soldier Jack Davies, injured in 2009 Afghan blast, dies aged 23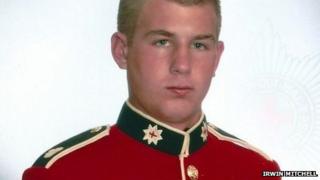 A soldier who lost a leg in an explosion during a 2009 training exercise in Afghanistan has died.
Guardsman Jack Davies, 23, from Loughborough, also suffered spinal injuries when a bomb detonated on a training range outside the perimeter of Camp Bastion, in Helmand.
Details of the circumstances of his death have yet to be released.
Mr Davies spoke to the BBC last year about his injuries and his plans to take legal action against the MoD.
'Courage and tenacity'
After the blast, which killed one of the 1st Battalion Coldstream Guards soldier's comrades and left another with serious head injuries, he spent five months in the Queen Elizabeth Hospital in Birmingham.
Tributes were led by Lt Col Toby Till, commanding officer for the soldier's battalion, who said: "He displayed enormous courage and tenacity to overcome his injuries and to restart his life.
"I will always remember Jack as a cheerful, enthusiastic and positive young man, always smiling and cracking a joke."
He said a remembrance service would be held in Nanyuki, Kenya, where the battalion is currently stationed.
Sgt Maj Steve Taylor said: "The drive from Jack in overcoming his severe injuries was always a positive one.
"The support he received from his family was always immense and I know this gave Jack the strength to be independent.
"Jack was a fine soldier and a fine young man, an inspiration to anyone injured at a young age."
Mr Davies, who is understood to have died at the weekend, is survived by fiancee Louise, parents Paul and Anne and sisters Jenna, Kerry and Elaine.