Susan Taylor Channel swim fund's £300,000 donation was hoax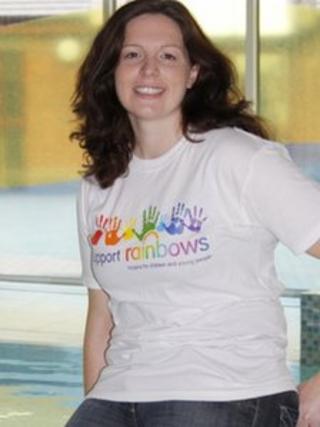 The family of Susan Taylor, who died attempting to swim the English Channel, have said they were left "disappointed and upset" when a £300,000 donation in her memory proved to be a hoax.
The 34-year-old, from Barwell, Leicestershire, collapsed in the water close to France and died on Sunday.
Since then, donations have flooded in to her chosen charities - Diabetes UK and Rainbows Hospice in Loughborough.
But it has been confirmed the £300,000 was a bogus offering.
About £80,000 has now been donated to the charities.
Crudely altered
In a statement, Ms Taylor's family said: "Since news of Susan's death the family has been comforted by the extraordinary response from those who knew her and also many more people who didn't but wanted to show their admiration for what Susan had achieved.
"The family were obviously delighted when news of a donation pledge of £300,000 to the two charities was announced.
"Unfortunately, it would appear that this pledge was bogus since the funds have failed to materialise in the charities' accounts.
"Susan's family are disappointed and upset that an individual has taken actions which have misled the family and Susan's chosen charities in this way.
"We do not intend to allow the actions of one person to detract from what Susan has accomplished and the pride we feel for her."
'Not fair on them'
Charity bosses first became suspicious when the donor talked about his celebrity lifestyle and a £100m yacht.
The final realisation came when he sent a screenshot of the supposed bank transfer which had been crudely altered with a computer graphics program.
Scott Lea, spokesman for Rainbows, said it was important not to let the hoax overshadow the other generous donations.
He said the family's first thought was for the person behind the deception and whether they could be suffering from a mental health problem.
"For this [hoax] to come on the back of everything else they are going through it is really not fair on them," he said.
The charity has contacted police but the deception is not thought to be a crime, he said.