Leicestershire Korean war veterans mark armistice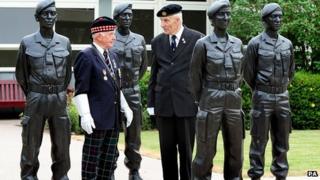 Veterans have taken part in a ceremony of remembrance in Leicester to mark 60 years since the end of the Korean war.
The newly formed United Nations was called into military action when communist North Korea attacked its US-backed southern neighbour in June 1950.
Some 100,000 British personnel from the Royal Navy, Army and Royal Air Force served on the Korean peninsula and more than 1,000 were killed.
The service took place at the Armed Forces Memorial at County Hall.
Earlier this month, hundreds of veterans from the war marched from Horse Guards Parade to Westminster Abbey in London, where a service of thanksgiving was held.
Country restored
The Armed Forces Memorial, which was unveiled last November, features four life-sized bronze figures of Royal Navy, Army and RAF recruits taking part in a military drill, and commemorates local service personnel who have lost their lives in conflict since 1945.
Korean war veteran Mike Outridge said: "The summers were very hot and the winters were bitterly cold - so cold that if you put your hand on bare metal of a truck, when you went to take it away you would take the skin right off."
Neil Townsend, president of the Leicestershire Branch of the British Korean Veterans Association, said: "No-one who served in the Korean conflict can speak too highly of the way that the Korean people have restored their country into prosperity, and who have so generously recognised the contribution to that war of the British Armed Forces."