Leicester Glenfield patient's anger at hospital smokers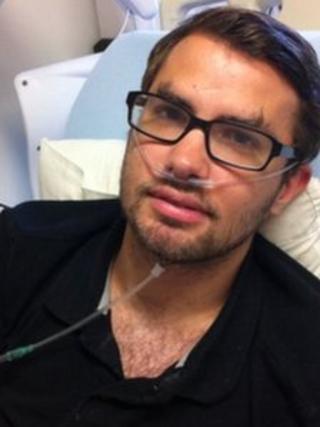 A hospital patient with breathing difficulties has called for a ban on people smoking by his bedroom window.
Maz Gregory, 26, said people were constantly smoking near his room at the east entrance of Glenfield Hospital, in Leicester.
He has cystic fibrosis and has spent three months in hospital this year.
The University Hospitals of Leicester NHS Trust said people were discouraged from smoking altogether and there were designated smoking areas on the site.
'Flout rules'
Mr Gregory said: "It affects me every day in different kinds of ways from coughing, struggling to breathe.
"Especially with the weather as it is now you've got the windows open because it is so hot and humid in here and the wind blows the smoke into my room.
"The nurses go outside and politely tell people where the smoking shelter is but it seems like they don't listen, they just carry on smoking."
Sanjay Agrawal, a consultant in respiratory and intensive care medicine at Glenfield Hospital, said the trust was currently consulting with its staff to try to find a solution to the problem.
He said: "I don't think it's acceptable that people should be subjected to second-hand smoke while they're recovering from an illness in a hospital.
"The biggest problem that we have in our hospitals is that there are so many entrances.
"People will knowingly flout the rules because they know that security can't be everywhere at the same time."