Leicestershire street light switch-off sparks concerns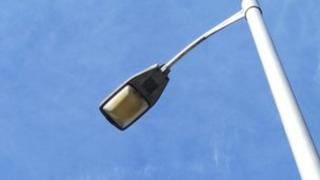 Residents say they have safety concerns over plans to switch off Leicestershire street lights in a bid to save money.
The county council plans to turn off lights in Hinckley, Burbage, Barwell and Earl Shilton between midnight and 05:30 BST.
The council said the energy-saving scheme, which began in 2010, would save nearly £800,000 a year when it is fully implemented in 2014.
But residents said the scheme could make towns "less safe".
Jonathan White, manager of Hinckley Business Improvement District, said: "Our concern is in relation to the night-time economy and the safety of individuals leaving the town.
"Clearly some of the businesses trade after midnight, when the lights may be switched off. I'm hopeful these are the kind of things the council will take into account."
So far, about 26,000 lamps in 131 towns and villages across Leicestershire have been switched off between midnight and 05:30 BST.
A further 1,000 have been dimmed between 19:00 BST and 07:00 BST and 831 switched off permanently.
The council said these changes had already saved it £750,000 in energy costs.
Morag Calton who runs the Lord Nelson pub in Earl Shilton said: "If it saves the council money, they can start doing other things they need to do around the village. I don't think it's a bad idea at all."
Peter Osborne, the county council's cabinet member for highways and transport, said: "This is a very ambitious programme but one that has also been carefully consulted on at all stages.
"We are making big savings on our energy bill but not at the expense of public safety or security."