Melton Mowbray couple's 'lucky escape' after tree fall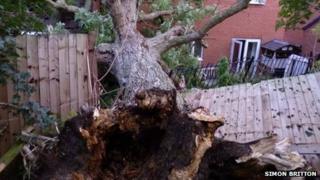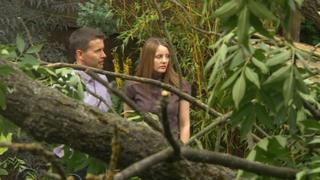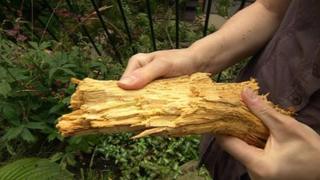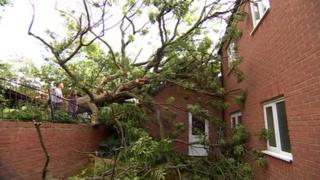 A Leicestershire couple have said they were very lucky not to be hurt after a 60ft (18m) high tree in a council-run area fell into their garden.
Wayne and Sharon Kimberlin, from Melton Mowbray, said the ash tree, which came down on Saturday morning, was "completely rotten" at its base.
A Melton Borough Council spokesman said it regularly inspected its trees, and was doing all it could to remove it.
He added the authority would not know the reason why it fell until later.
'Small white fungus'
The mature ash was between what Melton Borough Council called a water retention area, and the row of properties.
Mr Kimberlin said he believed a fungal disease could have weakened the tree and not the weather.
He said: "We could see the bottom of the tree had completely rotten.
"A tree surgeon came to look at it he pointed out a small white fungus, and said this was sign it was going to fall over.
"[Before] it looked absolutely great, it was full of leaves. There didn't appear to be anything wrong with it.
"We feel very lucky that it's just a few broken bricks and tiles."
Mrs Kimberlin, who was also in the house at the time, said: "Things could have been so much different if it happened a couple of hours later, we could have been outside in the garden.
"My first instinct would have been to run towards the house for safety but that probably would have been the worst thing to have done."
Melton Borough Council said it needed a crane before it could remove the tree, which it hoped to do some time this week.