Leicester child prostitution trial: Men admit paying girl, 16, for sex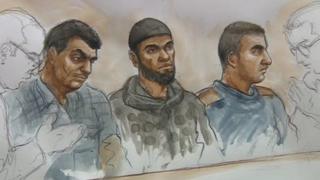 Three men have admitted paying a "very damaged and vulnerable" 16-year-old girl for sex.
They pleaded guilty shortly before the girl was due to give evidence in the men's trial at Leicester Crown Court.
Jurors had heard that the girl, who told the men she was a prostitute, needed to make money as her parents had threatened to throw her out.
Aabidali Mubarak Ali, 39, Rakib Iacub, 20, and Wajid Usman, all of Leicester, will be sentenced on 30 August.
They had been accused of a total of 22 charges, but between them admitted seven of them.
Six men charged
Judge Michael Pert QC has indicated he is likely to jail the men.
He told their barristers: "I make it plain that you have an uphill struggle in persuading me that anything other than a custodial sentence can be appropriate for any of these defendants."
Three other men, who had previously pleaded guilty to either paying the girl for sex or attempting to do so, will be sentenced on the same day.
Opening the case for the prosecution, barrister Matthew Lowe said: "She was a very damaged and vulnerable 16-year-old girl from a Sikh family."
Jurors heard that the girl self-harmed, smoked cannabis, abused alcohol and had run away briefly to Derby.
In a police interview played to jurors, she said her parents had been threatening to throw her out of their home for a year, and claimed social services were not willing to give her somewhere to live.
She said she needed to make money to move out and had tried to get a normal job but nobody had responded to the CVs she sent.
Friends had offered her money, she said, but she felt she needed to give something back in return, so she offered sex to boys at college for £20.
The girl then met Iacub by chance at a Diwali festival.
He introduced her to other men, and she had sex with them at locations around Leicester, including a flat above the Moghul Durbar restaurant in East Park Road.
Jurors were told that a group of people later attacked the restaurant, which led police to become involved.
The offences all happened between 1 November last year and 2 January this year.
Ali, of Guthlaxton Street, admitted two counts of paying for sexual services of a child and one count of facilitating child prostitution.
'Isolated incident'
Iacub, of Maynard Road, admitted two counts of paying for sexual services of a child, and one count of facilitating child prostitution.
Usman, of East Park Road, admitted one count of paying for sexual services of a child.
A report needs to be prepared before Usman can be sentenced, partly because he is an illegal immigrant from Afghanistan.
Speaking through an interpreter he said he was 17 but he is thought to be aged over 21, the court heard.
Det Supt David Sandall, of Leicestershire Police, said a number of people were still on bail in connection with the investigation.
But he said the girl's abuse appeared "at this stage" to be an "isolated incident".
"The police have made repeated enquiries among the victim's friends, associates and fellow students, but no-one else has come forward to say they have experienced similar abuse from this group of men," he said.