Burbage bungalow blast was arson, investigation reveals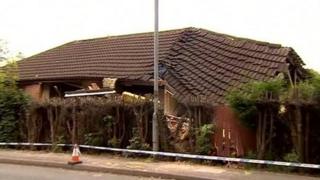 A fire that caused an explosion at the Leicestershire home of a deaf couple was started deliberately, police have revealed.
The blast at a bungalow in Aldridge Road, Burbage, on Monday caused severe damage and was initially thought to have been an accident.
But investigators from the fire service discovered it was arson.
Police are keen to speak to witnesses and said whoever started it probably has burns to their hands and arms.
The fire was started using petrol, which went on to cause an explosion, seriously damaging the home but blowing out the fire.
'Have to be demolished'
The couple were alerted by a newly fitted vibrating alarm system but then could not escape the building.
Two police officers, who were called to the scene at 3:45 BST, had to smash a window, cover the glass and pull the two people to safety.
The occupants, a man and woman in their 50s, received minor injuries during the incident and were treated at the scene.
Det Sgt Dave Speight said it was lucky the blast did not kill someone.
"There is quite a lot of structural damage - we are assuming it will probably have to be demolished," he added.
"The two victims are doing OK now but are having to stay at a friend's house.
"Whoever set this fire will probably have injured themselves. The way it was started it would have caused a flashback causing burns to the hands or arms."
Detectives are keen to speak to two men who were seen nearby at the time and were wearing high-visibility vests who may have witnessed the fire.