Burbage blast victim 'fears returning home'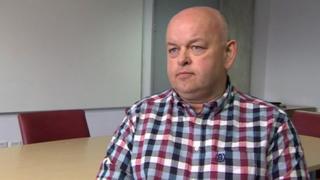 A Leicestershire man whose home was set alight in an arson attack has said he and his wife "may not return".
Michael and Angela Broderick, who are both deaf, escaped with minor injuries after being trapped in their Burbage bungalow on 12 August.
They survived thanks to recently-fitted fire alarms, designed for the hearing-impaired, which vibrated under their pillows, waking them up.
Mr Broderick said he feared another attack.
'Very shaken'
Mr Broderick said: "I have no idea why somebody would want to target me.
"I'm still very shaken by the whole incident and we are very concerned it might happen again.
"We are really very nervous about going back."
Fire investigators initially thought the blaze was an accident, but then discovered petrol had been spread throughout the property.
Mr Broderick said he felt "very lucky" to be alive.
"If the vibrator hadn't gone off, my wife and I would be dead," he said.
He said he had woken to find the room full of smoke. "I alerted my wife very quickly. I was in a panic and my wife started to cry and sob. We were shouting through the window."
Two police officers pulled the couple, who are in their 50s, to safety.
The blast destroyed a wall and part of the roof. Mr Broderick's sign language tuition business, which was based at the property, was also hit.
Leicestershire Police said the attack could easily have been a double murder.
They want to speak to two men wearing high-visibility jackets who were seen close to the area in case they might have seen something that could help with their inquiries.
They said whoever started the fire probably has burns to their hands and arms.