New York taxi crash: Leicester woman Sian Green 'had leg severed'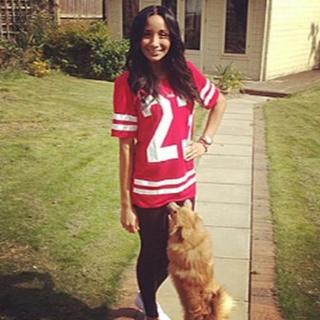 A British woman had part of her leg severed when she was hit by a taxi in New York City, police have said.
The cab is reported to have mounted a kerb in Manhattan and crashed into Sian Green, from Leicester, on Tuesday.
The 23-year-old was helped by passers-by and a celebrity doctor who was filming in the area at the time.
New York Police Department (NYPD) said the circumstances of the crash were being investigated.
'Really close family'
Sgt John Buthorn said: "It looks like her leg or part of it was severed during the accident."
The police added the driver had not been arrested or charged but he had been issued with a summons for being an unauthorised driver of the vehicle.
Police commissioner Raymond Kelly said Ms Green remained sedated in hospital.
Ms Green's father Jason told the Leicester Mercury surgeons had to remove what was left of his daughter's foot but she was now in recovery.
"We are a really close family we are all devastated by what has happened," he told the newspaper.
The crash happened near the Rockefeller Centre on Sixth Avenue, in midtown Manhattan.
Mehmet Oz, a well-known doctor in the US, was in the area and helped apply a tourniquet to stem the bleeding.
"There was a dog leash and a belt - amazingly two mundane things you wouldn't think of but they saved her life," he said.
"With the two of them we were able to stem the bleeding."
Witness David Justino helped provide first aid and was later praised on Twitter by Dr Oz for his quick thinking.
Mr Justino said: "She flew up in the air, the leg was severed right off, the other was mangled. So I just grabbed my belt went over, lifted her up, put it on and held it.
"Another girl came over, grabbed a dog leash from a passerby and held the other leg until Dr Oz came over."
A Foreign Office spokeswoman said: "We are aware of a traffic incident involving a British national in New York City.
"Staff at the British Consulate General in New York are providing consular assistance at this difficult time."