Hannah Smith death: Sister Joanne warns Ask.fm is addictive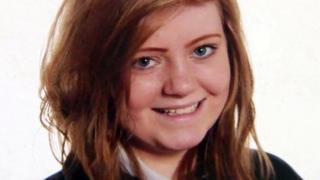 The sister of a girl who is thought to have killed herself after being bullied online has said that users can become addicted to the site she used.
Joanne Smith, who found her younger sister Hannah hanged at home in Leicestershire, described how she had also been bullied on Ask.fm.
Joanne, 16, said she had been "strong enough" to stop using the site, while her 14-year-old sister had not.
Ask.fm is changing its site to make it safer for users.
Joanne told BBC Breakfast: "I used to get bullied on it as well but I was able to come off.
"I was strong enough to come off whereas my sister wasn't.
"You get friends ask you questions on there and it's harder to come off than you actually think because you get addicted to it. It's hard to explain."
New safety features
Hannah was found hanged at her home in Lutterworth on 2 August.
Latvia-based Ask.fm ordered a law firm to conduct an audit of the site and its safety features in the wake of Hannah's death.
As a result, Ask.fm said it would:
Hire more staff, including a safety officer, to moderate comments on the site
Create a "bullying/harassment" category for reported comments, alongside "spam or scam", "hate speech", "violence" and "pornographic content"
Raise the visibility of a function to opt out of receiving anonymous questions
Limit the number of features unregistered users were able to access, and require an email address upon sign-up for registered users
Joanne said: "If they had bigger boundaries on the site or on the internet we wouldn't be able to get bullied and nobody would get bullied.
"It would only happen at school, like face to face, and then they are not hiding behind the screen and you know who it is."
Hannah's father, David Smith, has called for the law to be changed to offer greater protection to internet users like his daughter.
"The government now needs to step up and do something about the internet," he said.
"I'm a 45-year-old lorry driver. I shouldn't be doing this."