Leicester academic finds 'first' iced chocolate recipe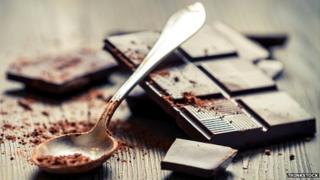 A university academic says she believes she has uncovered the first English recipes for iced chocolate desserts.
Dr Kate Loveman, from the University of Leicester, said she found the recipes in manuscripts which belonged to the Earl of Sandwich in 1668.
At the time, the chocolate treats came with a health warning for damaging the stomach, heart and lungs.
The research also shows some of the regular themes in chocolate advertising across the centuries.
Dr Loveman, a senior lecturer in 17th and 18th Century English literature, said she was looking through a Samuel Pepys journal when she came across a 30-page section on chocolate.
"It struck me as quite an unusual, odd thing because I have never come across anything quite like this before," she said.
"So I thought I would look into it further to find out how unusual it actually was.
"It's not chocolate ice-cream, but more like a very solid and very dark version of the iced chocolate drinks you get in coffee shops today.
"Freezing food required cutting-edge technology in 17th Century England, so these ices were seen as great luxuries."
The Earl's recipe was written about 100 years before his great-great-grandson allegedly invented the sandwich.
Dr Loveman said: "In the 1660s, when the Earl of Sandwich collected his recipes, chocolate often came with advice about safe consumption.
"The papers included quite stern warnings about the dangers. It was a drug as far as people of the 17th Century were concerned.
"One physician cautioned that the ingredients in hot chocolate could cause insomnia, excess mucus, or haemorrhoids. People worried that iced chocolate in particular was 'unwholesome' and could damage the stomach, heart, and lungs."
Dr Loveman's research also shows some of the continuities in chocolate advertising across the centuries, such as links between chocolate and women, pleasure and sexuality.
Her paper, The Introduction Of Chocolate Into England: Retailers, researchers and consumers 1640-1730, is published in the Journal of Social History.