St Mary De Castro church shut for six months over spire collapse fear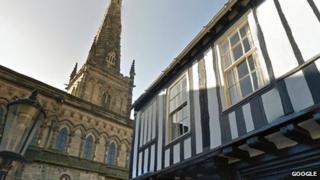 One of Leicester's oldest churches has had to shut its doors because of fears its spire might collapse.
St Mary De Castro church has been forced to close for up to six months after council building officers said it presented an "imminent danger".
Fears the medieval church's spire could collapse first began last year when several large cracks appeared.
Rosemary Mason, from the Save our Spire Appeal said they had hoped to have more time to raise funds and avoid closure.
The church, which has been part of the city's Richard III trail, has seen a huge increase in visitors since January.
'Dangerous state'
Ms Mason said they had seen 2,000 more visitors between January and July than three years ago and on August Bank Holiday Monday 500 people came through the door.
She said: "Our visitor numbers had been going up because Leicester has become a place people want to visit and the old part of the city has attracted a lot of attention recently.
"We knew the spire was going to have to come down eventually, and we have been doing a lot of work to get this sorted, but engineers said its condition had deteriorated quickly.
"We thought we wouldn't have to move out and had more time to raise money."
Last year the spire was reinforced with steel bands but inspections this week revealed it was in a "dangerous state" and extensive repairs were needed.
It is thought the work will take six months to complete and could cost up to £1m.
Ms Mason said only £20,000 had been raised and added: "The spire is on the skyline of Leicester. It is a recognisable landmark and we have got to work hard to get the money now which is not easy."
A Leicester City Council spokesman said occupants of the church had been told to prioritise the repairs and it would oversee the work to ensure it was done to schedule.