Asian male domestic abuse victim: 'I was very scared'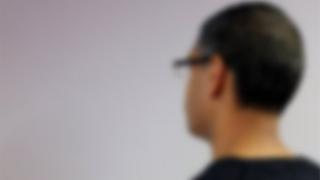 A growing number of Asian men are becoming victims of domestic abuse by their partners and in-laws, according to a UK charity.
The ManKind Initiative, a national charity that supports male victims, found that 9% of calls for help to its service last year were made by Asian men.
One abuse victim from Leicester said his wife tormented him almost daily for many years.
"I became very scared of her," he said. "From the moment I would wake up she would shout and scream abuse at me.
"She would swear at me and tell me that she hated me and couldn't stand to look at my face. She would tell me that I was a loser, that I was useless at everything and that I wasn't a real man.
"She stopped me from seeing members of my family and often she wouldn't allow me to take our children out.
"She never physically hit me, but the emotional and mental abuse completely broke me down, I lost all of my confidence and started to believe all the things she would say about me."
'Shame and fear'
In 2008 the ManKind Initiative dealt with 61 callers who were from the Asian community, and in 2012 that rose to 135 - an increase of 121% in four years.
The Safe Project, a charity in Leicester supporting victims of domestic abuse, has also seen an upward trend.
Meena Kumari, from the project, said: "We are finding that Asian men tend to stay in [abusive] relationships for longer because they feel shame and fearful to report the abuse."
The Leicester man, who spoke to the BBC, said he stayed with his wife during the years of abuse for the sake of his children.
"I have two sons and I wanted to make my marriage work for them," he said. "I thought things would get better, but it just got worse.
"I wasn't able to eat properly or sleep. I became depressed and couldn't concentrate at work and so I had to take time off and stay at home.
"It is not easy for Asian men to get help. It is not widely known for men to be abused, and I think Asian men in particular are quite scared to come forward and report it."
Despite his reluctance, he turned to the Safe Project for help last year with the support of this family.
He said: "My sister noticed the effect the abuse was having on me and she helped me to get out of the relationship and seek support and counselling."
He is now in the process of finalising his divorce and trying to rebuild his life.
'Significant taboo'
Charities believe the rise in the number of victims from the Asian community getting help can be partly explained by greater awareness of the issue.
Despite the growth, charities say the number of victims could be far higher than the figures suggest because many may still not be accessing mainstream services out of fear of being identified.
Mark Brooks, from ManKind Initiative, said: "There is more of a cultural barrier for men from the Asian community to come forward. It can be a significant taboo for them to admit they are victims of abuse."
In other cases, victims can also be faced with significant language barriers which can prevent them from accessing help.
Krishna Taylor, of the Safe Project, who helps to find accommodation for domestic violence victims, said: "We have calls from men who have come from abroad on spousal visas and who have faced abuse by both their wives and in-laws.
"We are currently supporting two victims in our male hostel in the city who have both come from south Asia and have managed to escape from their abusive in-laws.
"Often victims from abroad cannot speak English and they have no family or friends here, which can make it much more difficult for them to seek help.
"If they are able to flee, we are also finding that they don't want to go back to their own country because they fear they will get killed because a divorce will not be accepted."
Listen to more on this story on BBC Asian Network at 13:00 BST and 17:00 BST on 16 September.